4th International Conference on Global Food Security
Achieving local and global food security: at what costs?
ONLINE: Live and on-demand
7-9 December 2020 CET
Pre-conference mini-symposia on 4 December 2020 CET
Join us online: same great content – now online
As the COVID-19 pandemic continues to create so much uncertainty, we have made the decision to cancel the in-person 4th International Conference on Global Food Security that was scheduled for 6-9 December 2020 in Montpellier, France.
The 4th International Conference on Global Food Security Online will take place as a live-streamed and interactive event 7-9 December 2020, 12:00-18:00 CET, with pre-conference mini-symposia on 4 December 2020, 12:00-18:00 CET.
Register now to participate in an interactive conference experience direct from your desktop or mobile device: live-stream presentations and take part in discussion through live chat and Q&A.
Registration deadline for live participation (non-presenting delegates): 3 December 2020, 11:59 CET
Your registration includes on-demand access for 30 days (from one day after the conference).
Participate live from your desktop or mobile device to: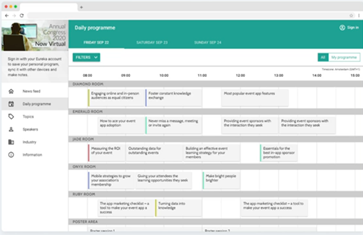 Deepen your knowledge: Live-stream a personalised schedule from the entire programme to match your research interests.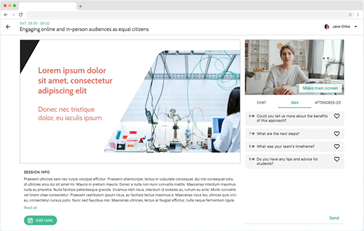 Engage with our inspirational speakers and other attendees during the live-streamed sessions: Ask questions and participate in live chat and polls.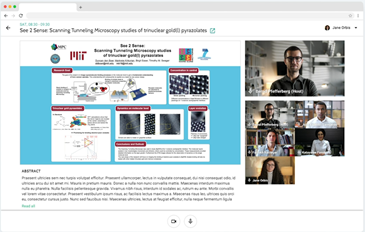 Review the latest research in the ePoster hall and discuss directly with the author in the live poster sessions.
Plus:
Network with your peers, meet new contacts and renew relationships: Connect with other attendees during the live event to chat and arrange one-to-one meetings.
Connect with a wider, more-inclusive audience: our lower fees, online delivery and post-event on-demand access will make the event more accessible to all.
Visit the live exhibition booths to meet industry partners, chat with exhibitors and learn more about their products.
Enjoy more flexibility with on-demand access to recorded sessions for 30 days after the event*. For multi-stream events, watch one stream live and catch-up on what you missed after the event.
* On-demand access includes recordings of talks and slides, poster pitches and posters from authors that have agreed for post event distribution: the organisers cannot guarantee on-demand access to all presentations.
Want to know more? Visit our FAQs.
2 minute read: How to optimise your online conference experience.
Code of Conduct: The Code of Conduct for organisers, participants and sponsors produced by the organisers, acknowledges the legitimate interests of the different stakeholders of the conference, recognising that they are all parts of a scientific endeavour to promote scientific and knowledge sharing and to produce public goods on global food security. View the Code of Conduct here.

The 4th International Conference on Global Food Security addresses the topic of food security at all spatial levels from local to global, and from an interdisciplinary and systemic food systems perspective. It aims to better understand environmental, nutritional, agricultural, demographic, socio-economic, political, technological and institutional drivers, costs and outcomes of current and future food security. Interactions with contextual factors including climate change, urbanisation, greening the economy and data-driven technologies will be central. The conference addresses the triple burden of malnutrition: hunger, micronutrient deficiencies and obesity. It explores the state-of-the-art of interdisciplinary insight, addresses the trade-offs that occur – and synergies that can be sought –in transforming food systems. These are aimed at reconciling the competing environmental, economic or social objectives and outcomes towards achieving the Sustainable Development Goals at different levels across spatial and temporal scales.
Speakers
---
Keynote Speakers

Jessica Fanzo, Berman Institute of Bioethics, Johns Hopkins, USA
Lawrence Haddad, GAIN, Switzerland
Saher Hasnain, University of Oxford, UK
Tamar Haspel, James Beard award-winning Washington Post columnist, USA
Christina Hicks, Lancaster University, UK
Pierre-Benoit Joly, INRAE, France
David Kanter, NYU, USA
David Nabarro, 4SD, Switzerland
Laura Pereira, Utrecht University, The Netherlands
Channapatna S. Prakash, Tuskegee University, USA
Mamy Soumaré, University of Social Sciences and Management of Bamako, Mali
Salah Sukkarieh, University of Sydney, Australia
Maximo Torero, FAO
Sébastien Treyer, Institute for Sustainable Development and International Relations (IDDRI), France
Martin van Ittersum, Wageningen University & Research, The Netherlands
Sonja Vermeulen, CGIAR Montpellier, France
Joost Vervoort, Copernicus Institute of Sustainable Development, The Netherlands
Jim Woodhill, AgriFoodNexus, UK