Conference Committee
Mina Vilayleck, IRD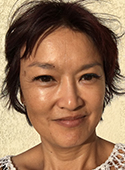 Mina S. Vilayleck is Communication Adviser at the IRD (www.ird.fr ), French National Research Institute for Sustainable Development since 2003. Currently based at the IRD Representation in New Caledonia, she will join the IRD Delegation in Occitania / Montpellier by the end of 2019, where she will take over the position of Communication Team Leader. During her experience in the Pacific region, she contributed to major international projects and conferences in ocean sciences, biodiversity, coral reefs and mining research. In addition to her close collaboration with scientific communities and policy-makers, she plays an active role in projects linking science and societies, targeting the youth, the general public and the media (public conferences, editions and exhibitions, documentaries and videos for digital social networks).
Prior to that, she worked as Editor-in-Chief for the Eurosurveillance Journal (www.eurosurveillance.org), at the Institut de veille sanitaire (France, 2000-2003). Along with the Scientific Committee, her achievements were to make Eurosurveillance evolve into a peer-reviewed journal, its indexation to Web of Science and Impact Factor and to extend the Editorial Board to Eastern European Countries.
Formerly she launched Inform'Action, a regional public health bulletin published by SPC (Secretariat of the Pacific Community, www.spc.int), an inter-governmental organization covering 26 member countries (New Caledonia, 1997-2000).
She started her career in 1995 as a science reporter for APMI (Agence de presse médicale international, International Medical News Press Agency) in Paris, France and for several news journals in New Caledonia.
Her training background is a post-graduate diploma in Biomedical Sciences (DEA in 1994, Paris VI) and in Science Information, Culture and Communication (DESS in 1995, Paris VII).
« Go Back