Speaker
Michelle Danyluk, University of Florida, USA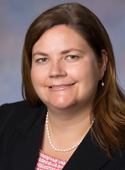 Dr. Michelle Danyluk is an Associate Professor of Food Safety and Microbiology in the Department of Food Science and Human Nutrition, at the University of Florida.  She is situated in the Citrus Research and Education Center, in Lake Alfred, Fl.  Michelle completed a Bachelors degree in Microbiology from the University of Alberta, a Masters Degree in Food Science and Technology from the University of Georgia and her Ph.D. in Food Science from the University of California at Davis.  Upon accepting her position at the University of Florida in 2007, she fulfilled her life goal of living with palm trees.
Her current research and extension interests include microbial food safety and quality, emphasizing the microbiology of fruit juices, fresh fruits, vegetables and nuts.  Her primary research focuses on Salmonella in produce and nuts, along with the produce product and processing environments, its movement within these environments, and the subsequent implications for public health.  Michelle's extension program includes involvement teaching FSMA, HACCP, GAPS and other specialized food safety, security or beverage processing programs to stakeholders. 
Michelle has been awarded a Research Foundation Professorship Award, an Excellence Award for Assistant Professors and the Institute of Food and Agricultural Sciences Richard Jones Outstanding New Faculty Research Award from the University of Florida.  She also received the Larry Beuchat Young Researcher Award in 2010 and the Presidents Recognition Award in 2011 and 2013 from the International Association for Food Protection.
« Go Back