Speaker
Lucky Mathebula, Thinc Foundation, South Africa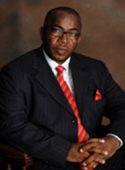 Dr FM Lucky Mathebula: A Harvard Business School Alumni holding a Doctor of Administration degree from Pretoria University. He specialised in Intergovernmental Relations (IGR). He has been a strategic adviser to the third Speaker of Parliament , Former Deputy Minister of Economic Development, and a speech writer for selected ministers and premiers; He was a contract special adviser to the Minister of Public Service and Administration. He consults for Madyatshamile Holdings. He is a resource person to policy think tanks and policy forums. He is an analyst, group think facilitator and business strategist.
He is a Adjunk Professor of Public Administration at the Uganda Technology and Management Institute (UTAMU) , a fellow of the Centre for African Studies at the Free State University, a research associate with Tshwane University of Technology and a Policy Editor of the SA Journal of Public Administration. He serves as a Trustee of the FW De Klerk Foundation. He is a former council member of the South African National Heritage Council, Former Chairperson of the Ditsong Museums of South Africa as well as a member of the National Teacher Professionalization Task Team. He served as a board member of Department of Trade and Industry Centre of Excellence in Advanced Manufacturing
His career appointments include, advance security management transitional team for the Pretoria District, high school teacher, university lecturer, director corporate planning at correctional services, CEO SA Foundation for Public Management, RSA APRM Focal Point advisor, Stakeholder Relations Executive EDI Holdings, etc.
He is a policy analyst and a visionary team leader that facilitates and/or finds creative but practical solutions.  His comprehensive set of competencies, combined with his exposure, experience and results orientation, enables him to coach and enjoy improved person and business performance.  He has a track record of new initiatives successfully implemented with valuable impact to organisations and their stakeholders.  His ability to position people and organisations at strategic level and to align and/or integrate activities from strategic level through to ground level implementation and then monitoring the impact of the change makes him a valuable asset to any organisation.
He is the founder of The th!nc Foundation a not-for-profit Public Policy Research, Analysis and Engagement Organization based in Tshwane, Republic of South Africa. thinc is a solution seeking th!nc tank that strives to transcend the artificial intellectual barriers. Its evidence-based and transdisciplinary approach  utilises actual data and the political economy perspective to unravel and understand socio-economic change dynamics and their effect on humanity. He is in the process of establishing a Regional Training Academy, The th!nc Academy.
« Go Back