Keynote Speaker
Gunther Pauli, author of The Blue Economy, Belgium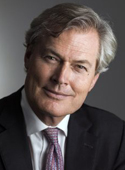 Gunter Pauli was born in Antwerp, Belgium, in March 1956. In 1979 he graduated as "Licencié en Sciences Economiques" from Loyola's University (today University of Antwerp) in Belgium and obtained his masters in business administration from INSEAD in 1982 at Fontainebleau, France thanks to a scholarship from the Rotary International Foundation. During the time he was studying, he held the most diverse jobs in order "to sustain family, education and to save money, which permitted extensive traveling during the summer holidays". In 1978 he was elected as national president of the students' union AIESEC.
He was the founder and Chairman of PPA Holding and of more than 10 other companies, founder and CEO of the European Service Industries Forum (ESIF), Secretary General of the European Business Press Federation (UPEFE), founder and president of the Foundation "Mozarteum Belgicum", Chairman and President of Ecover, and advisor to the Rector of the United Nations University in Tokyo (Japan).
His entrepreneurial activities span business, culture, science, politics and the environment. Under his leadership, Ecover pioneered an ecological factory in 1992, featured on CNN Prime Time News. He founded the "Zero Emissions Research and Initiatives" (ZERI) at the United Nations University in Tokyo, and subsequently established The Global ZERI Network as a foundation, redesigning production and consumption into clusters of industries inspired by natural systems.
Gunter has published 20 books (written 16 - edited 4), which have been printed in +30 languages and 365 fables bringing science and emotions to children. Over 17 million copies have been distributed worldwide. One of his fables "The Strongest Tree" is available in over 100 languages. His latest books are "The Blue Economy 2.0: 200 projects implemented, $4 billion invested and 3 million jobs created" and "From Deep Ecology to Blue Economy: 21 Principles of the New Business Model" .
« Go Back