Speaker
Molapo Qhobela, National Research Foundation, South Africa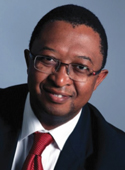 Dr Molapo Qhobela is Chief Executive Officer of the National Research Foundation. He is a seasoned executive leader with extensive policy and administration experience that has seen him head up the development of a significant number of policy and strategy documents, which have shaped the nature and operations of South African universities as well as the education system in general. He has exceptional knowledge of the South African Higher Education System and the National System of Innovation, and has established well-seeded international relationships and networks with funders and government entities over the years.
His prior appointments include: Vice-Principal: Institutional Development at the University of South Africa; Deputy Director-General at the Department of Science and Technology; Deputy Director-General and Acting Director-General of the Department of Higher Education and Training.
Dr Qhobela obtained his PhD (Plant Pathology) from Kansas State University and a BSc (Botany and Zoology) from the University of Zimbabwe.
« Go Back