Conference Committee
Eric Fargeas, Agropolis International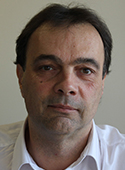 Eric Fargeas is the director of the association Agropolis International since 2013. This organisation was founded in 1986 by the research and higher education institutes located in Montpellier, and on the Occitanie area working in the field of agriculture, food, biodiversity and environment, with the support of the government and local authorities.
This platform is open to the development of the Mediterranean and Southern countries; it also gathers a large range of stakeholders and partners of the economic development and from the civil society.
Agropolis International is composed of 42 member institutions with 24 scientific institutions, 4 local authorities and representatives of the economic development and the civil society, Agropolis International is an original and unique place for exchanges and building up partnerships.
The association offers its members the following different types of services and tools:
-              Promoting skills of the scientific community (portals, thematic directories …)
-              Providing services for the organization of national and international events
-              Supporting interinstitutional and common projects (management, coordination…)
-              Supporting the activities of member institutions (service for the reception of delegations, assistance to visiting scientists, management of specific projects…)
« Go Back