Keynote Speaker
Christina Hicks, Lancaster University, UK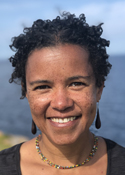 Christina Hicks is an Environmental Social Scientist interested in how social, ecological, and institutional settings shape food, conservation, and governance outcomes across aquatic and coastal systems. Her work is focused on enabling equitable livelihoods, securing nutritious and sustainable diets, and supporting just approaches to conservation. Christina works closely with ecologists, development and government agencies, and with journalists committed to socially conscious publishing. Christina is coordinating lead author on the IPBES assessment on the sustainable use of wild species, on the Stanford Blue Food Assessment leadership team, and the UN Food System Summit Track 2. She is a professor within the Political Ecology group at Lancaster University's Environment Centre, and adjunct at James Cook University. Christina's work takes a global focus. Her current field work focuses on East and West Africa, and is funded through an ERC grant, and a Phillip Leverhulme Prize.
---
Talk title: How can policies and practice enable equitable food systems
Abstract
Our global food system is poised for transformation; with the goal increasingly to ensure diets are healthy and sustainable. Fish and other aquatic foods are afforded a prominent role in this new narrative, primarily for their comparably low greenhouse gas emissions and rich micronutrient content. While a refocus towards healthy and sustainable diets is needed, it is imperative that efforts do not exacerbate existing inequities. In this talk I explore what this transformation may mean for the small scale producers, particularly in low income countries. Drawing on Environmental Justice theory, I first ask what role current fish production can play in closing nutrient gaps. Next, I establish whether social categories of class, gender, ethnicity, and age determine the distribution of benefits across the aquatic food system globally. Finally, I evaluate whether patterns of injustice are associated with a lack of political voice or recognition in food systems policy. In doing so, I identify promising examples of how policy can be used to support a more equitable distribution of food system benefits.
« Go Back