Conference Committee
Jennie van der Mheen, Wageningen University & Research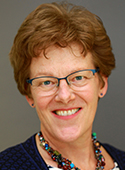 Jennie van der Mheen is the liaison officer for Africa on behalf of Wageningen University & Research in the Netherlands. She facilitates collaboration with African partners, and develops new activities for WUR in the field of research, education and value creation in Africa.
In 1984 Jennie obtained her MSc in International Development Studies from Wageningen University. Between 1985 and 1999 she lived and worked in several African countries for international organisations such as FAO, IFAD and the World Bank as well as for African NGOs. During that period she has mainly worked in food security programmes targeting African smallholder farmers.
In 1999 Jennie returned to the Netherlands where she was appointed programme officer West Africa for an international NGO, working on fair and sustainable value chains. She continued developing socially, environmentally and economically sustainable agri-food value chains for the private sector, producer organisations, NGOs and research organisations until she was appointed Liaison Officer Africa for Wageningen University & Research in 2012.
« Go Back