Scientific Committee
Jessica Fanzo, Berman Institute of Bioethics, Johns Hopkins, USA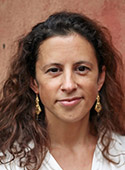 Jessica Fanzo, PhD is the Bloomberg Distinguished Associate Professor of Global Food and Agriculture Policy and Ethics at the Berman Institute of Bioethics, the Bloomberg School of Public Health, and the Nitze School of Advanced International Studies (SAIS) at the Johns Hopkins University in the USA. Jessica served as the Co-Chair of the Global Nutrition Report and the UN High Level Panel of Experts on Food Systems and Nutrition. Before coming to Hopkins, she has also held positions at Columbia University, the Earth Institute, Food and Agriculture Organization of the United Nations, the UN World Food Programme, Bioversity International, and the Millennium Development Goal Centre at the World Agroforestry Center in Kenya. Jessica has a PhD in nutrition from University of Arizona.
---
Talk title: Charting a new path for food systems: learnings from history, present pandemics and the future
Abstract
Ensuring food systems are equitable, sustainable, and healthy is impossible if the status quo is not significantly challenged. Food systems are often viewed as a source of problems needing innovative solutions and the COVID-19 pandemic is teaching us that systemic change is absolutely essential.
Several recent landmark reports focusing on food systems have amplified the message that if we do not address the multiple forms of malnutrition that many people still experience, the world will have significant challenges in moving sustainably forward. On the back of the increased attention to climate change, more integrated views of food systems have also featured in key reports looking at environment and health from a sustainability perspective.
These reports have laid out evidence and provided a roadmap for action. We also have the knowledge that is backed by decades of research and experience on how to transform food systems in positive directions. Positive change comes through an unnoticed series of multiple, small changes as often as large-scale advances that are instantly noticeable. Failures that counteract historic gains are also a frequent occurrence, although these are often disguised and rarely analyzed.
Research has a vital role in charting a positive direction for food systems to provide healthy diets, stay within planetary boundaries, avoid future pandemics, provide decent livelihoods, and promote equity. This will require a creative, holistic approach across disciplines, bringing knowledge together that inform action at different levels from sub-national, national, regional, and global. The task is to seek out where and how progress has (or not) been made, to learn from what has (or not) worked, and to make valid extrapolations to other contexts.
While the challenges we face, particularly in times of COVID-19, are daunting, the opportunities are also vast. The research community should rise to this challenge and provide a platform to challenge the status quo taking food system transformations into a sustainable future.
« Go Back