Panelist
Rathana Peou Norbert- Munns, International Specialist on Climate Foresight and Policy Analysis, UN FAO-Cambodia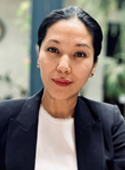 Dr. Rathana Peou Norbert-Munns is an award-winning futurist (APF- IF 2022). She is an experienced researcher and practitioner on Climate Change, Agriculture and Food Security currently based in S.E. Asia. She has extensive experience in design, implementation, capacity building and analysis within the practice of foresight planning for sustainable, resilient, and low emissions Food Systems.
Dr. Peou Norbert-Munns brings a depth of experience and expertise within the fields of Foresight and Scenarios Planning in Asia, actively contributing over the last 10 years to the CGIAR Research Program on Climate Change, Agriculture and Food Security (CCAFS) as a Regional Scenarios Coordinator first in South Asia, and then in Southeast Asia. In 2021, she joined the FAO Regional Office of Asia Pacific as their Climate Foresight and Scenarios Development expert and supported climate foresight guided agrifood system related policies formulation in Cambodia and Lao PDR. She, now, joins, the Office of Sustainable Development Goals (OSG)- FAO as the Sustainable development and agrifood system policy expert.
Within this capacity she also serves as Policy Researcher at Utrecht University with the Copernicus Institute and, prior to 2017, with Oxford University at the Environmental Change Institute (ECI). In 2018-2019, she developed the first ever Climate Parliamentary Diplomacy Training tailored to the needs of parliamentarian staff within the ASEAN.
Her research interests lie in the "4 inviolate principles": food security, water security, energy security and social "health" security with her current research focusing on ASEAN Net Zero GHG emissions agriculture pathways.
She sits on different board of directors including Transparency International- Cambodia and is a fellow of the Brussels Institute for Advanced Studies (BRIAS). In 2023, she became the new member the steering committee of the Foresight for Food (F4F) hosted at Oxford University.
« Go Back