Keynote Speaker
Saher Hasnain, University of Oxford, UK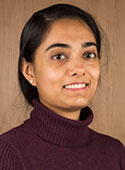 Saher Hasnain is a Postdoctoral Researcher and Research and Community of Practice Coordinator for the Foresight4Food Initiative and a Researcher at Oxford's Environmental Change Institute Food Systems Transformation Programme. She works on exploring food systems, their relationship with the environment, people, and the economy, and possible futures going ahead. She is also coordinating the Foresight4Food Initiative which is focused on developing a mechanism to better understand and synthesize key trends and possible futures in global food systems and to support informed and strategic decision making between food systems stakeholders.
She is also Oxford's Education Coordinator for the Interdisciplinary Food Systems Teaching and Learning programme (IFSTAL), which helps equip students with the critical interdisciplinary systems thinking needed to re-orient food systems. For her doctoral research at Oxford, she examined the influence of factors like energy system disruption, urban design, and regional and global food system transformation on food environments in urban Pakistan.
---
Talk title: Foresight for bridging worldviews
Abstract
Foresight is a tool that governments, private sector, and civil society can use to better understand future risks and opportunities for food system transformation, and the evolving environment for food system actors. In essence, foresight is a social and political process, informed by scientific understanding and analysis that enables organisations and societies to better respond to emerging risks and opportunities. It is particularly effective in bringing together diverse stakeholders and bridging different worldviews to explore plausible futures and stress test different options for change across these scenarios. In collaborative workshops, diverse stakeholders are provided with a safe and inclusive space to explore worldviews and share narratives and experiences. Enhanced methods and tools in foresight and scenario analysis are therefore used to arrive at insights on potential transition pathways towards healthy, sustainable, and equitable food systems. The Foresight4Food Initiative supports stakeholder dialogue informed by science for improved decision-making. The Initiative was started by key science institutions, international agencies, leading research institutes, food systems platforms and development organisations who participated in scoping meetings in Oxford in 2017 and in Montpellier in 2018. The Foresight4Food framework has been developed to illustrate an integrated approach to foresight that connects stakeholder processes of foresight analysis with the science of foresight research and studies. In Ghana, Zambia, and Nepal, Foresight4Food has worked with local stakeholders to develop deeper understandings of how the future might unfold.
« Go Back